TCE-3200 DDR4/3 Module System
Supports speeds up to 3200Mbps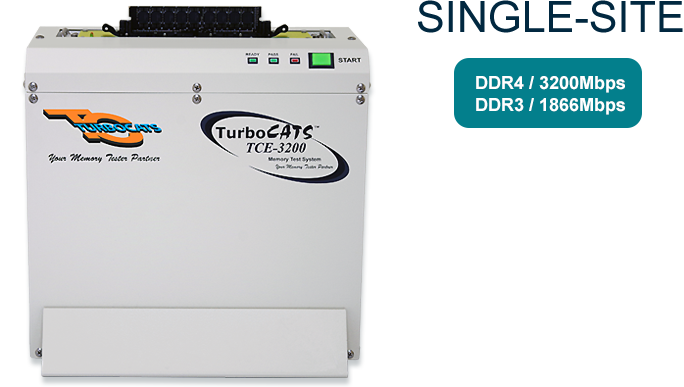 At Bus Speed & High Bandwidth Switching Data Rate
LODIMM, SODIMM, UDIMM, RDIMM & LRDIMM
The TCE-3200 memory test system is the answer to cost-effective, high performing DDR4 and DDR3 testing for all levels. Features like "At Bus Speed Testing" and support for "High Data Rate Switching" are now standard functions in the new TCE-3200 module test system. Open/ Shorts plus 10 comprehensive AC test patterns give retailers, resellers, integrators, and manufacturers enough testing power to ensure that the products they sell meet the standards of the PC industry.
Customizable Features
DDR4 - supports speeds up to 3200Mbps
DDR3 - supports speeds up to 1866Mbps
Custom form factors - supports LODIMM, SODIMM, UDIMM, RDIMM and LRDIMM
Capable of testing up to 8 units in parallel at speeds up to 3200Mbps
TCE-3200 and Heat Chamber (optional)
Interface Features
Speeds continue to increase in the ever-changing memory market. Moreover, customers want this speed packed in smaller units. The faster the speed is generated, the more heat will be produced, therefore becoming a major challenge in the tester's performance.
TurboCATS has innovated a new heat chamber that can be integrated with the TCE-3200 DDR4 and DDR3 module test system. This allows for a module and its components to be tested for functionality while being exposed to similar heat conditions to the temperature in a PC or a laptop. This optional item is available with the single site TCE-3200 module test system.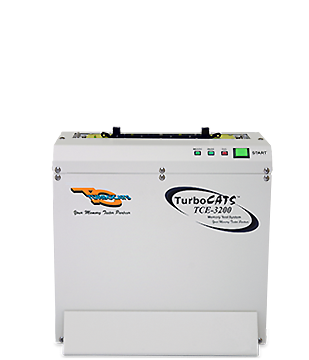 Heat Chamber Specifications
Power Supply
220V, 50Hz (90 - 110% of rated voltage)
Power Consumption
Power-up: 3A, 220V
Normal operation: 1.3A, 220V
Display Method
Red 7 Segment LED Display
Storage Temperature
-20°C - 60°C
Ambient Humidity
35% - 85% RH
Temperature Range
25°C - 85°C
We will help you put it all together
Network interface with up to 8 units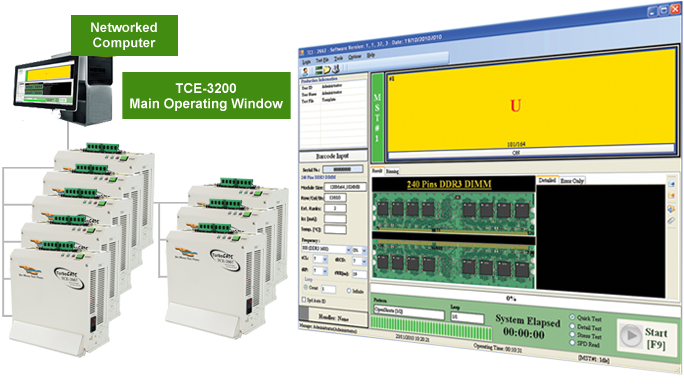 Simple Setup, Ease of Management
Graphical user interface software
Easy installation and manageability
Ideal for powered productivity
Share files effectively with networking
Free firmware upgrades
Optional heat chamber
Optional handler interface
Features
Test Capabilities
DDR4 tests data bandwidth up to 3200Mbps
DDR3 tests data bandwidth up to 1866Mbps
Clock frequency from 667MHz to 1600MHz
Supports high bandwidth data switching
Enhanced bus cycles at speed testing
Parametric Test & Analysis Test
Supports DC/ Idd's/ SPD test
SPD program/ test/ read, byte matching, write protection, slot test and serialization
Open/Shorts plus 10 comprehensive AC patterns
Real time Idd monitoring
Vdd shorted protection
Failed ICs and DQs, Error logging and location
Flexible Configuration
Supports DDR3L (Low voltage DDR3)
Unbuffered and Registered DIMM's
Optional Form-factor test adapters
Network interface with up to 8 units
Specifications
DDR4 clock frequencies: 800 to 1600MHz
DDR4 data rate: 1600, 1866, 2133, 2400, 2667, 2866, 2933, 3200Mbps
DDR3 clock frequencies: 667 to 933MHz
DDR3 data rate: 1333, 1600, 1866Mbps
DDR4 Vdd - 1.14V to 1.30V
DDR3L Vdd - 1.25V to 1.45V
DDR3 Vdd - 1.35V to 1.65V
Data width: 72 bits in parallel
Address depth: DDR4 - 18 Rows, 15 Columns, 4 BAs
DDR3 - 16 Rows, 15 Columns, 3 BAs
Programmable timing cycles : tRCD, tAL, tCL, tWL, tRL, tWR, tRRP, tRP, tRFC, etc.
Burst Length: 8
ODT Selection
OCD Adjustment: Auto calibration
All Standard Idd's current test
Software Screenshots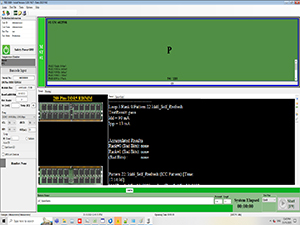 Quick Test (default by factory)
Test Device Configuration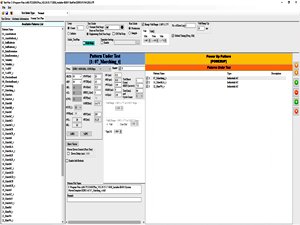 SPD Data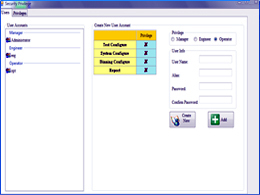 Security Privilege
TURBOCATS, LTD. RESERVES THE RIGHT TO CHANGE PRODUCTS, INFORMATION AND SPECIFICATIONS WITHOUT NOTICE. Products and specifications discussed herein are for reference purposes only. All information discussed herein is provided on an "AS IS" basis, without warranties of any kind.