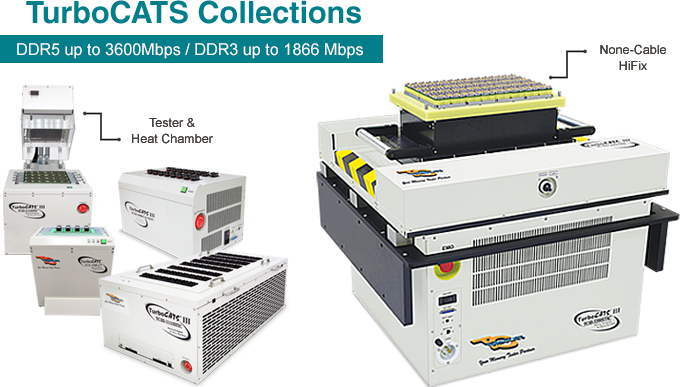 What We Offer?
Solutions for your memory testing business
TurboCATS is pioneering a high performing None-Cable HiFix unit integrated with our high performance TCIII-3200STDRIC / TCIII-3200STLPIC NANDFlash IC test system. The tester is connected to the IC socket board via TurboCATS' None-Cable HiFix unit, which is cableless to maximize the performance of the signal transmission. This ensures that the test system is easy to maintain since the user no longer needs to go through hundred of cable wires within the unit.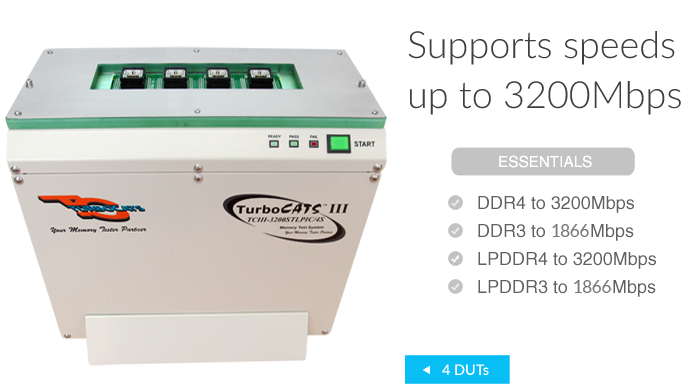 Customizable Options:
TCIII-3200STDRIC / DDR4 & DDR3
DDR4 - supports speeds up to 3200Mbps
DDR3 - supports speeds up to 2133Mbps
TCIII-3200STLPIC / LPDDR4 & LPDDR3
LPDDR4 - supports speeds up to 3200Mbps
LPDDR3 - supports speeds up to 1833Mbps
What is None-Cable HiFix?
Speed, signal integrity and costs are the challenges for building a HiFix unit integrated to the automated handler system. The conventional HiFix comes with a large bundle of long cable wires to connect with the HiFix and IC socket boards. It causes signal degradation and timing jitter due to the impedance mismatching, conductor losses, radiation effects, etc. It is also difficult to maintain and repair any problems that need to go through a large bundle of cable wires.
Powerful Integration Tool
Combination of Failures
Functional Failure: Cell stuck-at, coupling, neighborhood sensitivity and software error faults
Parametric Failure: (AC) Speed timing vs. Vdd threshold, (DC) Leakage and Idd's
Hot-Temperature Failure: System high temperature environment
GUI Failure Analysis
Graphical Identification of DQ's
Represents the failed DQ pins locations, graphically. The software uses a graphical picture to show the test failures at the hardware level: If the IC fails during the test, there would be indications (displayed in RED) marking the failed pin(s) and signal(s).
Address / Data Logging
Error logging can analyze failures by using address and data information.

Bit Failure Mapping
A tool that helps the user to find and display the failed DQ bits in the RAM. The corresponding row and column addresses the failed DQ bits, which will be spotted and displayed for the user.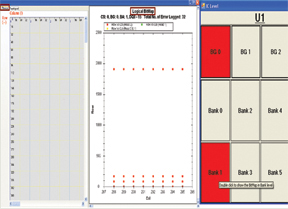 Address Scramble
Address Scramble allows users to redefine an address line logic to the address.
Data Scramble
Data Scramble is based on the input addresses which determines write data or /data.
Shmoo Plot
A two-dimensional diagram that shows the status of the DQ bits of Memory ICs varying over a range of the user's selected parameters (timing and input voltage level).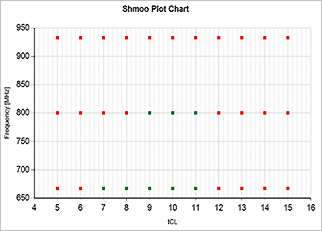 Script Code Function (optional)
Script Code Debugger

The customer can use a script programming language to create a customized test pattern. It also supports up to maximum 2048 data patterns. The Script Code function also serves as a powerful compiler/debug tool. It contains a built-in compiler and debugger for Script Code programming that allows the user to monitor the timing waveform of the programming algorithm along with the timing bus transactions. This is all accomplished under the Signal Tap tool.
Multi-Site Networking
Solutions for your connected testing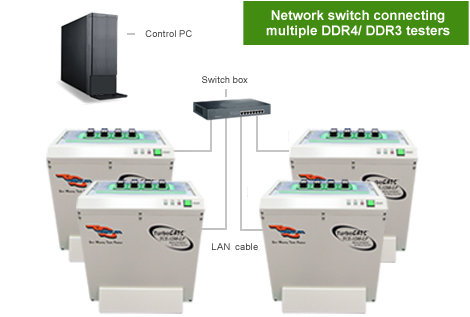 The TCIII-3200STDRIC / TCIII-3200STLPIC multi-site units can be networked so the user can test up to 512 ICs using one PC to control the entire operation. This gives the customer greater flexibility in terms of increasing testing capacity on as need basis. Cost are minimized since there will be no need for additional man labor to handle the increased capacity.
Handler Interface (optional)
Essential Tools
Supports up to 256 DUTs on DDR4 / DDR3 IC
Supports up to 128 DUTs on LPDDR4 / LPDDR3 IC
TurboCATS TCIII-3200IC family supports both manual and automated handler testing
It can be integrated to various handlers with/ without the None-Cable HiFix
M6771AD / M6741AD Handler
DDR4/DDR3/LPDDR3 up to 64 DUT's or 128 DUT's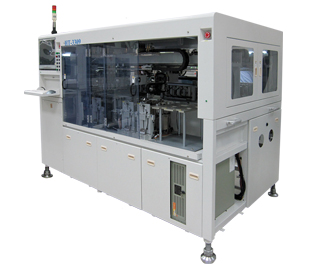 HT-3309 Handler
LPDDR3 up to 128 DUT's
DDR3 / DDR4 up to 256 DUT's
Features:
Test Capabilities
TCIII-3200STDRIC - DDR4/DDR3 up to 3200/1866 Mbps
DDR4 - 1600, 1866, 2133, 2400, 2667, 2866, 2933, 3200 Mbps
DDR3 - 1333, 1600, 1866 Mbps
Clock frequency from 667MHz to 1600MHz
TCIII-3200STLPIC - LPDDR4/LPDDR3 up to 3200/1866 Mbps
LPDDR4 - 1600, 1866, 2133, 2400, 2667, 2866, 2933, 3200 Mbps
LPDDR3 - 1333, 1600, 1866 Mbps
Clock frequency from 667MHz to 1600MHz
Flexible Configuration
Configurable from 6-site to 512-site for parallel testing
Proper chassis design to meet various selective handlers requirement
Supports custom load boards for manual test
Supports None-Cable HiFix for integrating to selective handler interface
Optional environmental tests from low and high temperatures ranging from -30°C to 125°C
Optional heat chamber
GUI Failure Analysis Tool
Failed IC's and DQ's
Error Logging
Bit Failure Mapping
Address/Data Scrambling
Shmoo Plot
AC & DC Parametric Tests
Supports ISVM (Contact open pins) and VSIM (Leakage current)
Supports Continuity, Leakage, Idd's measurement
Standard test patterns
User-defined script programming
Auto timing calibration
Specifications:
Test Frequency
DDR 3
DDR 4
667Mhz to 933Mhz
800Mhz to 1600Mhz
LPDDR 3
LPDDR 4
667MHz to 933MHz
800MHz to 1600MHz
Switching Data Rate
DDR 3
DDR 4
1333Mbps to 1866Mbps
1600Mbps to 3200Mbps
LPDDR 3
LPDDR 4
1333Mbps to 1866Mbps
1600Mbps to 3200Mbps
I/O Interface
DDR 3

DDR 4
SSTL-15, Class I & Class II
SSTL-135, Class I & Class II
POD12-1.2V Pseudo Open Drain I/O
LPDDR 3
LPDDR 4
1.2V HSUL
Supports LVSTL
Clock Lines
1 pair per site
Address Depth
DDR 3

DDR 4
16 Rows, 15 Columns, 3 BAs
16X/15Y/3Z per site
18 Rows, 15 Columns, 4 BAs
18X/15Y/4Z per site
LPDDR 3

LPDDR 4
15 Rows, 12 Columns, 3 BAs
15X/12Y/3Z per site
17 Rows, 10 Columns, 3 BAs
17X/10Y/3Z per site
Data Width
DDR 3 / 4
Supports x 4 / 8 / 16 / 32 bit IC Device
LPDDR 3 / 4
Supports x 16 / 32 bit IC Device
Termination
On-chip, dynamic
Variable Timing Edges
DDR 3 / 4
tSU/tHD, tAC(tDS/DH), tDQSS, tWD
LPDDR 3 / 4
tRCD, tCL, tRL, tWL, tAL, tRP, tRFC, tWR, tCWL, etc.
Programmable Timing
DDR 3 / 4
tSU/tHD, tWD, tDQSS, tAC, Tsref, Tref, etc.
LPDDR 3 / 4
tRCD, tRP, tCCD, tRL, tFAW, tWTR, tRAS, tRTP, tRFC, etc.
Control PC Requirement
Windows 7 (64 bit) or better, Networking interface
AC Power Source
110-240VAC, 50/60Hz
External PC Requirements
(Recommended)
Executes TCIII-3200IC program to control station operation.
Windows 7 (64 bit) operating system or better, i7-core or better, 8G RAM or better, CD DOM, LAN port x 2, USB port, 1920x1080 monitor, keyboard, mouse, display card on board display
TCIII-3200IC with Heat Chamber (optional)
The heat Chamber creates a hot testing environment to simulate the accelerated life testing and analyze the behaviors of the module.
Heat Chamber Specifications:
Power Supply
220V, 50Hz (90 - 110% of rated voltage)
Power Consumption:
Power-up : 15A, 220V
Normal operation : 10A, 220V
Display Method
7 Segment LED Display
Processing value (PV) : Green
Setting value (SV) : Red
Display Accuracy:
F.S ±0.5% rdg ±1 digit based on SV or 3°C Max.
Sampling Time
0.5 sec. fixed
Vibration:
0.75mm amplitude at frequency of 10-55Hz in each of X, Y, Z directions for 2 hours
Ambient Temperature
-10 - 50°C
Storage Temperature
-20 - 60°C
Ambient Humidity
35 - 85% RH
Temperature Range
25°C - 85°C
Recommend Setting Temperature
80°C
Air Input
Min. 0.5 MPa - Max. 1.0 MPa
Min. 75 psi - 145 psi
Diameter of Gas Tube
6 mm
Software Screenshots: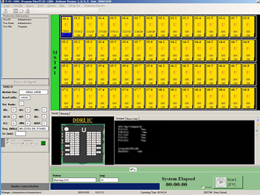 Main Operating Window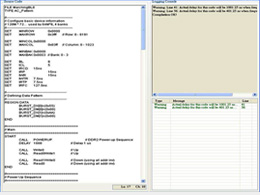 Scrip Code Program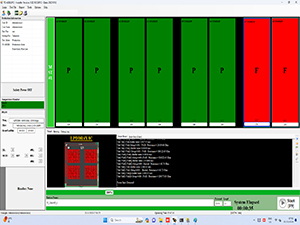 Signal Tap Tool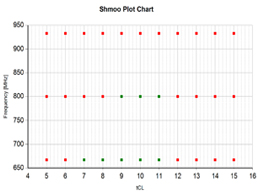 Shmoo Plot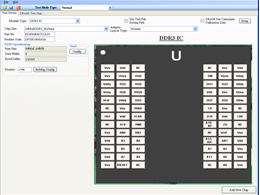 Test Device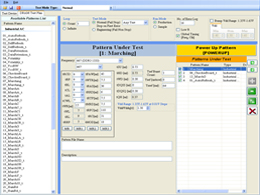 Test Plan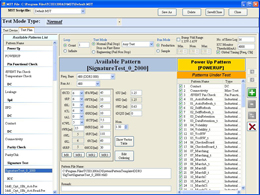 Test List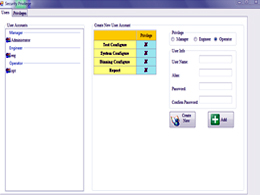 Security Privilege
TURBOCATS, LTD. RESERVES THE RIGHT TO CHANGE PRODUCTS, INFORMATION AND SPECIFICATIONS WITHOUT NOTICE. Products and specifications discussed herein are for reference purposes only. All information discussed herein is provided on an "AS IS" basis, without warranties of any kind.